Scholarship
Each year ASPE Roadrunner Chapter #47 offers a career-specific scholarship that ranges from $250 to $500  for students pursuing construction based education.  Additionally, National ASPE offers a $ 1,000  to $ 5,000 Scholarship annually, given to the learning institution  to assist tuition of the awarded student.  Applicants submit a simple registration form, a copy of their transcript, and an essay.
SUBMIT NOW:   2015  ACE  NEW MEXICO CONSTRUCTION TRADES  SCHOLARSHIP $ 250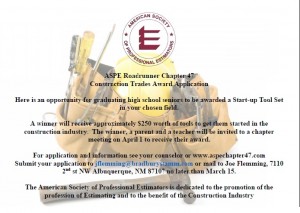 ASPE Roadrunner Chapter 47
Construction Trades Award Application
Here is an opportunity for graduating high school seniors to be awarded a Start-up Tool Set in your chosen field.
A winner will receive approximately $250 worth of tools to get them started in the construction industry. The winner, a parent and a teacher will be invited to a chapter meeting on April 1 to receive their award.
For application and information see your counselor or www.aspechapter47.com
WINNER OF  THE 2015 ACE SCHOLARSHIP  IS : ___
SUBMIT NOW:   2015  ASPE NATIONAL UNDERGRAD SCHOLARSHIP $ 5,000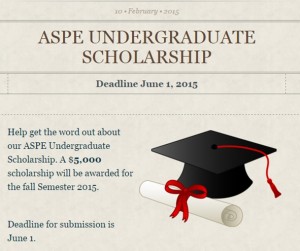 Click <HERE> to connect to the ASPE National Website.
Submission deadline is June 1, 2015.